Bernie McGill is the author of two novels and one short story collection.
She has written audio scripts for heritage projects and stage scripts for theatre. Her new short story collection, This Train is For, will be published by No Alibis Press in 2022.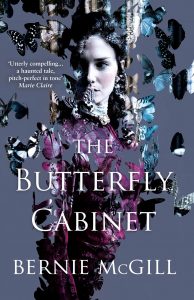 Julian Fellowes, creator of Downton Abbey, writing in The Guardian: 'McGill has the ability to enter into the brain and heart of her characters and so to make us sympathise with people who commit acts we abhor.'
Rachel Hore, author of A Place of Secrets and The Glass Painter's Daughter: 'A haunting, often lyrical tale of quiet, mesmerising power about the dangerous borders of maternal love.'
Eugene McCabe, author of Death and Nightingales: 'Bernie McGill's rare, hypnotic gift for writing fills every page of The Butterfly Cabinet. [It] contains no end of apparently throwaway sentences you want to remember.'
You had a story for me… I wasn't ready to hear it before but I'll hear it now.
When Maddie McGlade, a former nanny, receives a letter from Anna, the last of her charges and now a married woman, she realises that the time has come to unburden herself of a secret that has gnawed at her for over seventy years. It is the story of the last day in the life of Charlotte Ormond, the four-year-old only daughter of the big house where Maddie was employed as a young girl. The Butterfly Cabinet also reveals the private thoughts of Charlotte's mother, Harriet. A proud, uncompromising woman, Harriet's great passion is collecting butterflies and pinning them into her cabinet; motherhood comes no more easily to her than does her role as mistress of a far-flung Irish estate. When her daughter dies, her community is quick to condemn her. At last Maddie, and Harriet's prison diaries that Maddie has kept hidden under lock and key in the cabinet she has inherited, will reveal a more complex truth.
An unforgettable story of two lives linked by a secret, The Butterfly Cabinet is a remarkable literary debut.
[wonderplugin_3dcarousel id=8]
USA Today: 'This is a fantastic novel. It drenches us in gothic sensibilities as it haunts us with uncomfortable reminders of recent sensational events.'
Marie Claire: 'An utterly compelling tale of hidden secrets and culture clashes played out against the backdrop of a large country house in Northern Ireland… it's a haunted tale, eerie with recrimination, illicit passion and frustrated motherhood. Pitch-perfect in tone, McGill captures, in counterpoint, the voices of two women as they declaim a melancholy murder ballad.'
Financial Times: 'Bernie McGill's assured debut is an intense exploration of maternal love and guilt. What also distinguishes it is its delicate portrait of a society that, within one lifetime, would face unimaginable change.'
Kirkus Reviews: 'An emotionally bracing, refreshingly intelligent and ultimately heartbreaking story.'
Daily Mail: 'Beautifully done and thoroughly absorbing.'
Publishers Weekly: 'An exquisite series of painful revelations… McGill easily recreates the lives of the Castle's owners and servants and the intricate connections between them. As both Harriet and Maddie's stories emerge, the tale becomes a powder keg of domestic suspense that threatens to explode as long-kept secrets surrounding Charlotte's death are teased out.'
The Guardian: 'Defining moments of Irish history form the backdrop to each woman's narrative…The decades of complicity that follow Charlotte's death unfold with forceful drama…'
Minneapolis Star Tribune: 'McGill employs an ingenious counterpoint technique to give her convincing fictional version of the tragedy. The interplay of the voices of two exceptionally different personalities is perhaps the book's major achievement.'
Woman & Home: 'An absorbing story of marriage, motherhood and murder.'
New Zealand Herald: 'McGill's real triumph with this novel is how successfully she manipulates the way we feel aout her two main characters… the prose is elegant and assured.'
Good Housekeeping: 'A dramatic and haunting novel… this is an enthralling and beautifully written debut.'
Huffington Post: 'Where McGill succeeds so well is in her language, beautiful and languorous and wild.'
Sydney Morning Herald: 'McGill's complex portrait of an unmotherly mother is as skilful and unusual as Lionel Shriver's We Need to Talk About Kevin.'
Verbal: 'A gripping novel… Disturbing and thought-provoking… an examination of how to deal with the past in the midst of hope for the future… a truly absorbing and cleverly written tale that will send a shiver down your spine.'
Irish World: 'The Butterfly Cabinet deserves to be celebrated for its ability to alter the reader's perspective of the world… its characters leap from the page with profound and contemporary truth… Bernie McGill has achieved an incredible feat.'
Ulster Tatler: 'The Butterfly Cabinet is an exceptionally accomplished novel… [McGill's] prose is lyrical and beautifully composed, her characters are crafted and honed with an inherent talent and skill… writing of this calibre does not come along often.'
Sunday Tribune: 'This is a truly convincing retelling of a true story, richly realised on every level from a writer to watch out for.'
Read the first chapter.
Watch the book trailer