The Life Within
'The Life Within' is a series of five short audio plays that animate five historical listed buildings in Bushmills, Co. Antrim, following the stories of a number of fictional characters living in the town in the last years of the nineteenth century. The project was commissioned by Big Telly Theatre Company and funded by the Heritage Lottery Fund (HLF) Sharing Heritage Programme with support from the Police Service of Northern Ireland and Causeway Coast and Glens Borough Council.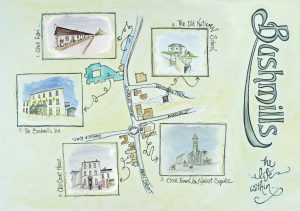 The completed scripts were recorded by professional actors and by local volunteers and can be accessed onsite via handheld devices using existing QR codes at the five selected locations. A map of the audio trail, designed by Gráinne Knox, is available from the Tourist Information Office, Bushmills. Special thanks to Bushmills Folklore & History Group and their publication Portcaman, to Art Ward, Raymond McMullan and Antony Macnaghten, and to all the people of Bushmills who contributed stories.
Written by Bernie McGill
Directed by Caitriona McLaughlin
Mixed and edited by Darren Murphy
Illustrations by Gráinne Knox at Inspired by Astrid
Cast: John Mulkeen, Keith Lynch, Andy Porter, Louise Conaghan, Orla Mullan, Caitlin Bell-Porter, George Brien, Catherine Wegwermer and members of Little Divas, Bushmills, Donna, Millianne and Alesha as the schoolchildren.
Shell Row
It's Market Day in Bushmills on a date late in the nineteenth century. On her way there, Granny Kane has come to visit her granddaughter Molly Brown, and her son-in-law Thomas who live in Shell Row in the town. But there's something else happening later today, something Granny's not so keen to share with Molly.
Recorded in Flowerfield Arts Centre, Portstewart, with thanks.
The Old National School
Molly is late for school and Miss Richardson is not pleased, but the schoolmistress has other problems on her mind, in the shape of a certain Farmer Tweedy.
Recorded in Ground Espresso Bar, Bushmills, with thanks.
The Clock Tower & Market Square
Market Clerk Francie is keeping an eye on the traders and especially on Granny Kane, but havoc ensues when Molly's dog Square Face enters the market square causing another row between Granny and her old enemy Mrs Hatty.
Recorded in Ground Espresso Bar, Bushmills, with thanks.
The Old Court House
The petty sessions are underway with Lord Macnaghten presiding over a number of contentious cases that feature some, by now, familiar characters we have met en route.
Recorded in Flowerfield Arts Centre, Portstewart, with thanks.
The Bushmills Inn
It's the end of an eventful day for Lord Macnaghten, for Thomas and Francie, for Granny Kane and Mrs Hatty. Will old hostilities persist, or will they resolve their differences over a ball of malt?
Recorded in The Bushmills Inn (Secret Library), with thanks.