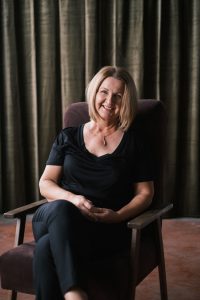 Bernie McGill is the author of two novels and two short story collections.
She has written audio scripts for heritage projects and stage scripts for theatre. Her second short story collection, This Train is For, was published by No Alibis Press in June 2022.
Listen to Bernie's essay 'Our Art' (read by her) on BBC Radio 3.
Listen to Bernie's short story 'Waiting for Joseph' read by Julia Dearden on BBC Radio 4.
Bernie was born in Lavey in County Derry in Northern Ireland. She studied English and Italian at Queen's University, Belfast and graduated with a Masters degree in Irish Writing. Her novel The Watch House was nominated in 2019 for the Ireland/European Union Prize for Literature and The Butterfly Cabinet was named in 2012 by Downton Abbey creator Julian Fellowes as his novel of the year. Her first short story collection, Sleepwalkers, was short listed in 2014 for the Edge Hill Short Story Prize. Her short fiction has been nominated for numerous awards and in 2008 she won the Zoetrope:All-Story Short Fiction Award in the US. Her work has been anthologised in award-winning collections The Long Gaze Back and The Glass Shore and more recently in The Black Dreams, Her Other Language, The Danger & the Glory, Belfast Stories and in Female Lines. She is a recipient of a number of Arts Council of Northern Ireland Awards, including an International Artists' Development Fund Award to attend the Vittore Branca Centre at the Giorgio Cini Foundation in June 2023. She is a former Writing Fellow with the Royal Literary Fund (RLF) at the Seamus Heaney Centre, Queen's University, Belfast and is now an Associate Fellow of the RLF, working on social sector projects. She offers One-to-one Mentoring for fiction writers via the Irish Writers' Centre and is available for school visits via Poetry Ireland's Writers in Schools Programme. For public readings, writing workshops etc. check out Upcoming Events. You can contact Bernie directly here.
Reviews of The Butterfly Cabinet
Read 'Nomad', a short story by Bernie McGill published in Irish Times, 3rd June 2022
Feature by Lee Henry in The Sunday Times Culture magazine, August 2017
Feature by Una Brankin in The Belfast Telegraph, July 2017
Interview with Susanne Stich at The Honest Ulsterman, February 2017
'Five collections that will put Northern Irish women writers on the map' by Caroline Magennis in The Irish Times, June 2016
'Ten great Northern Irish novels you might have missed' by Caroline Magennis in The Irish Times, August 2015
Extract from an Interview with Eric Forbes
For The Book Addict's Guide to Good Books.
What inspired you to be a writer, and when did you realize you were going to be one? Was it something you had always set your heart on?
I have always loved books, the printed word. My mother says I used to sit reading long before I could read. We didn't have a lot of books in our house, but my Dad was a great man for the library. There used to be a mobile library van that came around and in the summer when I was off school, it was my job to change Daddy's books. He was a big fan of Agatha Christie – of any crime or detective novel. I got to know what to look for on the cover: a weapon of some kind, a knife or a gun usually; some object that touched on a mystery – keys were very popular, or a half-burnt letter; and now when I think of it, there was usually some hint of allure – a red stiletto, or a lipstick, the swirl of a silk dress – red was a big colour on the crime novel covers. I always thought it would be an amazing thing to write a book, but it didn't feel like something that belonged in my world. None of the books we had in school had anything to do with our lives – Enid Blyton and Lewis Carroll – I'd no idea about ginger ale or croquet. It was all very exotic and unattainable. Then at secondary school, we were introduced to writers like Bernard MacLaverty, Brian Moore and Seamus Heaney – people who wrote and spoke in our own voices about things that we recognized, knew about. Heaney was from the neighbouring parish – the same one my mother came from. It made us feel so much less alien. It validated our perspective. And most importantly for me, it brought writing within the realm of things that were possible.
Before becoming a published writer, did you imagine what a writer's life would be like? What do you enjoy most about your life as a writer?
I think if I'd been published when I was much younger I'd have had a very rose-tinted idea of what it is to be a writer. I've worked in the theatre for a number of years – as a manager and, more recently, as a writer, and I think that gives you a very practical grounding in what it is to be a creative practitioner. The theatre is all about creating an artifice in which audiences are willing to invest their belief, at least for a couple of hours. Out front it looks magical, but you've been there for weeks with people who've been doing the physical job of loading and unloading bits of timber, mounting lights, sewing on buttons, warming up their voices, uncreaking their joints. For me, that doesn't make the experience in any way disenchanting – it makes it even more extraordinary. I love the contract that's made between writers and readers/audiences: when people sit down, individually or together, and conspire to believe in what is openly, transparently, not true. I'm shocked that it still happens, actually, that people are still prepared to do it.
What's your writing process like? Which part or parts of it do you enjoy most?
I tend to do a lot of research, which I thoroughly enjoy. I completely abide by that old iceberg maxim in writing – that even though the reader only sees the tip of it, the writer needs to have built the entire structure under the water, know exactly where it is and how much there is of it. That takes a lot of background work. I do have to be careful not to get carried away with it, though, and remind myself that it's a creative work that I'm making, not an historical record. I do carry a notebook all the time, and I always have one on the bedside table for lines that come at me without warning. For me, those scribbled notes are the beating heart of the creative process. I couldn't do without those early jumbled, crossed-out and overwritten fragments. Many of them have gone in to my work unchanged – they've informed the whole piece. For practical purposes, I work pieces up on the laptop. I type more quickly than I write by hand – I learnt to touch type properly at school – so it makes sense to do the graft that way. But words look different when you type them up – more formal, closer to the finished article. There's a danger in that, I think, and a danger too in not being able to see what you changed, took out, added in. For that reason, I often print pieces off, write all over them again in pen. I think it's important to see the process at work – what you were thinking at the time, how that's different to what you think about it now.
Was it difficult getting your first novel, The Butterfly Cabinet, published? Did you experience much difficulty in finding an agent or a publisher for it?
When I had an idea of the arc of the book, and the first 30,000 words written, I sat down with A&C Black's Writers' and Artists' Yearbook and I went through the directory of agents, checked out their websites, and circled all those agencies that represented writers I admired. It was quite a long list. I decided I'd submit in batches of five, wait until I'd had an answer from each of them, then move on to the next batch. I was fully prepared to make my way through the list and then, if I'd had no luck with the agents, move on to those publishers who would accept unsolicited manuscripts. I knew it was potentially a long and dispiriting task, but it was a comfort to have some kind of strategy in place. My first batch included two London-based agents, two Dublin-based and one Belfast-based – I thought, because the story was set in Ireland, there might be more interest here. I prepared a tailored submission for each of them. A couple of them expressed muted interest, one said they weren't looking for new writers at that time, one said 'no' outright, and then I got a call from Clare Alexander from Aitken Alexander Associates in London saying she was very interested and could I send her the finished manuscript. I couldn't believe my luck. While I was still working on the novel, one of my short stories, 'Sleepwalkers', won the 2008 Zoetrope: All-Story Short Fiction Contest in the U.S. As part of the prize, the story was sent to eight leading New York agents, several of whom expressed an interest in reading the novel. But it was Clare's initial interest that had given me the incentive to keep going and when I finally finished it, I sent it to her. She was confident she could find a publisher and we signed a contract. A few weeks later, Headline Review made an offer on it. By that time, Clare's agency had opened an office in New York. The Butterfly Cabinet will be published in the U.S. in 2011 by Free Press, an imprint of Simon & Schuster, and in translation in Italy and the Netherlands.
The Butterfly Cabinet started life as a story from a collection of stories you were working on which evolved into a novel. How did that come about? How long did it take you to complete it?
I'd been awarded an Arts Council grant to take some time out of paid work in order to write. My proposal was for a collection of short stories, all based on the North Coast of Ireland where I live but spanning a period of about a hundred years. I knew what story I wanted to start with – I'd read in a local parish bulletin about a woman from an aristocratic family in Portstewart who had been imprisoned in 1892 for the killing of her three-year-old daughter. The story intrigued me – I wanted to know who she was, what the circumstances had been, what could possibly induce someone to tie up their child and leave them for hours on end in a cold, dark room. I began to read newspaper accounts of the trial and the more I read, the more intrigued I became. There was only one account of the mother's words – a cold, factual statement she had made at the inquest. Once the trial began, she was not permitted to give evidence herself. The question of what she would have said – how she would have defended herself if given the chance – became more and more pressing. I'd written a draft of this first story and tried to move on to the next but everything I wrote came back to her again. I couldn't get the story out of my head. As part of a separate project, I began to work with a published writer who was mentoring me, and he suggested that there might be scope in the story for a novel. It was a fairly scary idea for someone who had been used to writing in blocks of three and four thousand words, but in the end I agreed to give it a go and once that decision was made it was clear that it was absolutely the right one. It was difficult to write, for all kinds of reasons. As a parent myself, it was often hard to read about the treatment of the children as evidenced in newspaper accounts by the household servants at the time. I wasn't trying to justify what she'd done, I didn't particularly want to identify with her, but I did feel compelled to try and understand the motivations of that fictional character she had become. For the most part, inside Harriet's head was a fairly uncomfortable place to be. I did do a lot of research, which took time, and I completed two commissions for theatre while I was writing it. From start to finish the book took about four years to write. It changed a lot in that time – I don't think it would have been possible for me to do it any quicker. That was how long I needed to do it.
And now that The Butterfly Cabinet has been published, will you be working on a collection of stories proper? What themes do you explore in your short stories?
I think I'll always write short stories – they're a kind of guilty pleasure. When The Butterfly Cabinet got too hard, I sneaked away and worked on them. I knew I should have been getting on with the novel, but the compulsion to complete something was just too tempting. They're incredibly satisfying and rewarding to write. I don't think in terms of themes – that's probably a job for someone else. But it strikes me that the dead always have a part to play in everything I write. There's always a shadow behind what's happening. And I'm always interested in the things that people don't say – what's at the back of what they're ostensibly talking about. I'm a big fan of Pirandello's theatre – I studied Italian with English at university – and I'm fascinated by that idea of the masks that we wear, the roles that we take on, the multiplicity of the faces we hide behind. What would happen if we all came out and said exactly what was on our minds, in our hearts?
Could you tell me a bit about The Butterfly Cabinet? How did you go about creating the characters (especially the two protagonists of the story, Maddie McGlade and Harriet Ormond) that people the landscape of your fictional universe? What are some of the themes you dealt with in it? Were you conscious of these when you first set out to write the story?
Harriet was created out of the small amount of information I had about the mother in the original story. The newspapers described her behaviour in court as cold – she comes across as a fairly unlikeable person. I began to form the picture of a character who did herself no favours – who was acutely aware of how she might be expected to behave in public and was totally unprepared to compromise, who was prepared to accept the consequences of that. I knew I wanted Harriet's voice, but I knew I also wanted another version of events, at one time I experimented with the idea of a reporter visiting Harriet in prison, piecing the story together. I found that that approach was too much 'after the event', though. I wanted the other voice to be someone who was privy to the secrets of the household, who would have had access to the house and to the children in a way that was different from a family member. There were a number of accounts of servants giving evidence at the trial. Maddie began as a kind of composite of these, and then grew into her own person.
In terms of theme, I suppose I'm interested in degrees of truth – in how much or how little people are prepared to reveal about themselves – and in how that impacts upon their relationships with other people. I think a lot of unnecessary suffering happens when people don't communicate honestly.
Did much research go into The Butterfly Cabinet? What kinds of research did you do?
Lots of library research, going over the newspaper accounts of the time, reading them on microfilm. I also read a lot about the period – what was happening politically, socially, domestically in the late 1890s and the 1960s. I travelled to Dublin to read the Grangegorman prison records and I read a lot about prison conditions in the late Victorian period. And I had to find out about butterflies, about which I knew very little.
Did you know where you were going with The Butterfly Cabinet as you were writing it or did it evolve on its own?
I don't think I ever know where I'm going when I'm writing. I find that idea quite stultifying. I have to follow where the writing takes me. In the book, Harriet writes about feeling like a sculptor, laying down thin layers of plaster-soaked linen in the hope that some recognizable form will emerge. That's the closest I can get to an analogy of the process. We used to make those models with the children, where you'd blow up a balloon, cover it in strips of plaster of Paris, build it up, layer upon layer, and when it had hardened, puncture the balloon. The shape you end up with is made up of dozens of individual pieces – you put them down, lift them again, move them around, cut a piece off, add a piece on and eventually a shape begins to show itself. It's not until you see it that you know what it is. It begins with air, with nothing, encircled with the finest of membranes, and then you make it solid.
As you were writing the story, how did you know when your manuscript is completed? Do deadlines (contractual or otherwise) determine this or do you feel a sense of confidence that there is no way you can improve on the text any further?
I think you can always improve on the text – I can see that when I'm reading it now. But there does come a point in the writing of it that you can't see it any more and that's the time to hand it over to an editor. That other perspective is invaluable. My editor Mary-Anne Harrington was able to tell me exactly what she felt needed developing, what needed omitting, what new material was required. It was such a relief to be handed a list like that – like the snagging list a builder might be given for the completion of a building. It's clear what you need to do and you just sit down and get on with it.
What did you learn about yourself in the process of writing your first novel?
I learnt that I like to stick at a thing and finish it, that I like to complain plenty while I'm doing it, but there's a determination in me that I didn't really know I had.
The Butterfly Cabinet was the outcome of a mentoring programme you undertook. Could you tell me something about the programme? What was the experience like?
The mentoring programme was a fantastic experience. It was run by the Creative Writers' Network in Belfast, an organization that, as a result of funding cuts, is no longer in existence. They matched emerging writers with published writers who met on a one-to-one basis about once a month to help progress and develop work. My mentor was award-winning Northern Irish playwright Damian Gorman. It was he who suggested that I might not be writing a collection of stories but, in fact, a novel. He was very encouraging, suggested lots of different tactics to try. It's amazing what can happen when someone you trust tells you that you're capable of doing this thing. You start to believe it yourself.
What did you learn from writing your first novel that you could use in your next work?
That having done it once, I can do it again.
Does it really matter if a novel is contemporary or historical? I personally don't think so. Fiction, whether set in the near or distant past or now, is still fiction. A good book is a good book. What are your thoughts on this?
I don't think people change, fundamentally. Circumstances change, the world changes, but people still respond in the same kinds of ways that they always did.
What are some of the challenges when it comes to writing novels set in the past?
Trying to recreate a world that is unattainable to us now. Constantly reminding oneself that there would have been no street lights, no traffic noise, no electric bulbs, no plastic bags – the small, everyday, crucial pieces of detail.
As a writer, reading obviously matters a great deal to you. Why is reading important in our lives?
I'd be truly lost without reading. I suppose it's a form of escapism, really. I rarely read nonfiction outside of research and I'd never choose to read it for pleasure. I want to be a willing participant in the fantasy that's created – I want to be transported.
Who are some of your favourite Irish writers?
John Banville, Sebastian Barry, Samuel Beckett, Elizabeth Bowen, Paul Durcan, Maria Edgeworth, Brian Friel, Seamus Heaney, Patrick McCabe, Martin McDonagh, Eoin McNamee, Conor McPherson, Tom Murphy and Flann O'Brien.
Who are some of your favourite contemporary authors? Why do you enjoy reading their books? What are some of your favourite contemporary books? Why do you enjoy reading them?
Monica Ali, Margaret Atwood, Pat Barker, A.S. Byatt, Peter Carey, Anne Enright, Claire Keegan, Andrea Levy, Cormac McCarthy, Anne Michaels, Toni Morrison, Alice Munro, Maggie O'Farrell, Annie Proulx, Alice Sebold, Lionel Shriver, Zadie Smith and Alice Walker. Reading Margaret Atwood when I was in my twenties was a real revelation to me. I'd been studying a Masters in Irish Writing at Queen's. Before I read her, I thought there were two kinds of books: the kind you studied, and the kind you took on holiday. I didn't know there was a kind of writing that spanned the two – that had a really strong narrative thread, told a great story, but in language that had been carefully balanced, considered. Nowadays, the writer I look to who does that really well is Maggie O'Farrell. The first book of hers I read was After You'd Gone and I immediately fell in love with her writing.
Suggest a couple of novels that you think haven't received as much attention as they should.
Anne Michaels's Fugitive Pieces. She's a poet as well as a fiction writer and you can tell – every word is weighed in the hand, nothing feels casual. One of my favourite books of all time is Flann O'Brien's At Swim-Two-Birds. It's one of the funniest books I've ever read. If ever you feel that you're taking the writing life too seriously, it's the book to lift down from the shelf. O'Brien's The Third Policeman is also quite brilliant. And A.S. Byatt's Possession is a beautiful read. I never read books twice – there are too many new ones, but it would be my desert island choice. It has real stamina.
Do you read translated fiction or literature in translation? Why do you think it is important to read the literature of other countries – not just one's own? Name me a couple of translated titles you have enjoyed.
I loved Peter Høeg's Miss Smilla's Feeling for Snow when I read it a few years ago in translation. That blinding white world he creates is mesmeric. And I've been enjoying Marjane Satrapi's graphic novel, Persepolis, which was first published, I think, in French, though it's set in Iran. When I was studying, we read poetry, fiction and drama in Italian, of course, and I still try and do that now and again, to keep up the language. Often when I'm writing I'll reach for a word in English and then for the equivalent in Italian – it really helps to broaden your language choices as a writer. I think it's essential to read books from cultures that are not your own – it's a way of finding out about the world. When I left Queen's, I avoided white Irish and British male authors for a long time, because I'd spent so long studying them, but I've come back round again now. I often read books by Indian and African authors: Ben Okri, Chimamanda Ngozi Adichie, Arundhati Roy, Kiran Desai and Aravind Adiga are all writers I've enjoyed.
As a fiction writer, you obviously enjoy reading fiction. What are the elements in fiction that take your breath away? In other words, what do you think are the essentials of good fiction? What distinguishes the great novels from the merely good?
I love to find a book that stops me in my tracks – that offers up images that surprise with their rightness. I love a good story told in language that's been considered. Lines and images from books stay in your mind for all kinds of reasons – because of where you were at the time you were reading them, or who you were with, but I think the great ones stay with you because they change you in some way, however subtle that is. You're a different person afterwards; you think different things; you don't look at the world in quite the same way again. That's fantastic.
You write short stories, too. Do you think there are differences between writing short stories and full-length novels? Which form do you prefer?
I find writing short stories easier since I began writing the novel, and I tend to write longer short stories now. I think I used to be held back by the fear that if I kept on going I'd never finish anything. I love writing short stories but there just isn't the market for them that there is for a novel. Having said that, I do love the scope of the novel: the space it gives you to develop ideas. I don't think I have to choose between them.
Do you have a favourite short story or short-story collection?
Oh yes! I've just read Claire Keegan's Foster, the winner of the 2009 Davy Byrnes Irish Writing Award. I got to within about two pages of the end and burst into tears. It was incredibly intense. I'm always amazed by the restraint she shows. She's one of those writers I read and think: if I'd been writing that, I'd have taken three times that number of words and gotten nowhere near the heart of it. I aspire to that kind of temperance. Her second collection, Walk the Blue Fields, is wonderful. I also love Alice Munro's The Beggar Maid and anything by Flannery O'Connor.
You have written plays as well. Your play, The Haunting of Helena Blunden, toured Ireland earlier last year. Is this your first play? How is writing for the theatre different from writing a novel?
I wrote a short play called The Weather Watchers for a children's audience. It was produced and toured Ireland by Cahoots NI in 2006. Writing for theatre tends to be a lot more collaborative and therefore more social than fiction writing – there are more meetings. I co-wrote The Haunting of Helena Blunden with composer and lyricist Paul Boyd, and the Artistic Director of the producing company, Big Telly Theatre Company, was very involved in discussions from the initial stages. We also worked with a dramaturg and workshopped the piece with actors at various stages of development. Then closer to production, there's lots of input from the designers as well. It's a very interesting process. You're taking on board all these views and opinions, but you still have to go off and do the writing by yourself.
In some ways, the biggest difference comes at the point of production. When you sit in an audience in a theatre for a performance of something you've written, you get a very immediate idea of what the reaction is – you can tell right away what audiences are picking up on, what they're responding to. The consumption of a book or a story is a much more private matter. What's rewarding about the book, though, is that it has a much longer life than most theatre pieces. It will be around for a while and that gives it a chance to build a readership. Most theatre runs in Ireland only last for a couple of months so it can be frustrating when people say 'I wish I'd seen that,' after it's gone.
And which do you think offers the more superior experience – theatre or fiction reading?
I love them both. There's a great camaraderie about finding yourself in a theatre audience, laughing or being moved together by what you see on stage. But I also love the solitude of curling up in bed with a book. Your question sends me back to Flann O'Brien's At Swim-Two-Birds and to my favourite quotation on the arguable superiority of the theatre experience over that of fiction reading. O'Brien's protagonist seems to think that the theatre is at least a more honest form of dupery. Here he is in flying form: 'It was stated that while the novel and the play were both pleasing intellectual exercises, the novel was inferior to the play inasmuch as it lacked the outward accidents of illusion, frequently inducing the reader to be outwitted in a shabby fashion and caused to experience a real concern for the fortunes of illusory characters. The play was consumed in wholesome fashion by large masses in places of public resort; the novel was self-administered in private. The novel, in the hands of an unscrupulous writer, could be despotic. In reply to an enquiry, it was explained that a satisfactory novel should be a self-evident sham to which the reader could regulate at will the degree of his credulity.' He's outrageous – and a genius!
What are you reading at the moment?
I am currently reading Colum McCann's Let the Great World Spin and I'm thoroughly enjoying it.
What are your thoughts on the future of books, particularly on e-books and e-book readers? Do you think they will replace physical books one day?
I think they'll replace physical books for many people for practical purposes – especially if you're someone who needs to access huge amounts of factual information. But they'll never replace physical books for me. There's no better space to be in than a room lined with the books that you've read. They're like snatches of music – they take you back to who you were when you read that. They remind you that you've travelled emotionally.
What are the things that inspire you in life?
The landscape here, the light. Authors, poets and playwrights who capture an emotion and lay it out in front of you. Ordinary people going about their everyday business, quietly working miracles. My children. My parents who managed to rear ten of us into fairly sane adults.
Do you agree that writing is a moral act: what authors write has a real effect on others, often to a surprising extent?
I don't feel that I'm engaged in a moral act as such. I think what authors write can have an effect on others but that's not always within their control. People sometimes take offence where no offence was intended. Or they refuse to see that their perspective is just one of many.
It has been said that literary fiction (as compared to popular fiction) lacks plot. Do you think literary novelists should put more emphasis on plot and less on stylistics? Why do you think there's a perceived divide between popular and literary fiction?
I don't think that good fiction lacks plot. I think it's not always plot-driven – it's not necessarily where the author begins. Very often literary fiction starts with character. In my case, I often start with place. I think most readers would agree that Stephen King's novels have strong plots. I was reading his memoir, On Writing: A Memoir of the Craft, recently and he writes, 'I believe plotting and the spontaneity of real creation aren't compatible … my basic belief about the making of stories is that they pretty much make themselves. The job of the writer is to give them a place to grow …' Hooray to that, I say!