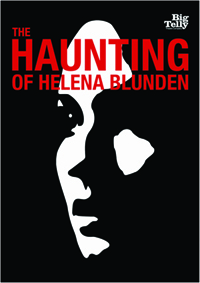 by Bernie McGill and Paul Boyd, produced and toured by Big Telly Theatre Company, February/March 2010.
A doorway. A stairwell. A story. Two women: one desperate to cross over the threshold; the other desperate to escape. What is it that makes eighty year old Maggie want so badly to go in? What is it that has terrified Susan into packing up and leaving? And what is it that still holds them both there? The Haunting of Helena Blunden is thriller, ghost story and musical. Set in modern-day Belfast in a derelict linen mill it has more twists and turns than the yarn on the spindle. Just when you think it's time to relax, sit back and breathe easy, the breath is knocked right out of you.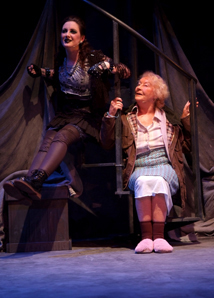 Original Production Team
Original book and lyrics by Bernie McGill. Original music and lyrics by Paul Boyd. Designed by Diego Pitarch. Lights designed by Conleth White. Production Manager Russell Allardice. Technical Stage Manager Alan McCracken. Stage Manager Judith Pillow. Costume Assistant Annalivia Browne. Musical Director Paul Boyd. Directed by Zoë Seaton. Performed by Helena Bereen, Roisin Gallagher, Charlotte McCurry, Karl O'Neill.
Soundtrack
'A Cut Above' from The Haunting of Helena Blunden was nominated by the Stephen Sondheim Society for the Stiles & Drewe Best Song in a New Musical in 2010.
Click here to go to Paul Boyd Musicals and listen to songs from the show.
Press Reviews of The Haunting of Helena Blunden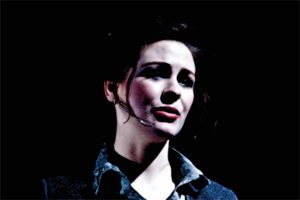 The Irish Times:
The 'terrible tragic tale of Helena Blunden' is a ghost story which refuses to be exorcised … Writer Bernie McGill and composer/writer Paul Boyd have resurrected the ghost of Helena in this neat little 90-minute musical, stylishly directed for Big Telly by Zoë Seaton. Diego Pitarch's rickety set perfectly recaptures the dusty, crumbling interior of the now silent mill, while Conleth White's lurid green lighting lends it something of the atmosphere of that much bigger West End extravaganza Wicked… There is a curious mix of the homespun and the sophisticated about this entertaining show, which uncovers an intriguing episode in local history and folklore. Helena Bereen is an affecting presence as the elderly Maggie, who fled Belfast after the blitz and joined the Queen Alexandra nurses, but whose disconnected consciousness throws bright beams of light onto the gruelling conditions under which young women such as herself and Helena (a beguiling Roisin Gallagher) toiled, day in, day out… the songs are possessed with Boyd's familiar musical swagger and would find a home on any commercial stage.
The Stage:
Bernie McGill and Paul Boyd have reconstructed Helena Blunden's tragic story, with its attendant illicit love affair and mysterious deaths, and turned it into a compact little musical, which is part living history, part folklore, part ghost story, part thriller. Boyd's perennially catchy songs fairly speed the plotline through the surprising twists and turns of an affluent but dysfunctional family saga… an entertaining evening.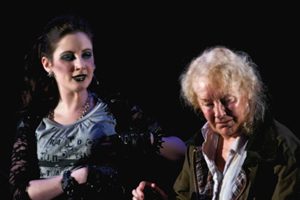 Culture Northern Ireland:
McGill's script takes a hoary old ghost story – a Helena Blunden fell to her death in a linen mill in the Markets in 1912 – in an unexpected direction and turns it into something quite clever…
It sounds simple enough, but McGill's writing spins the story in circles, distracting with details every time the truth threatens to be revealed. Like a game of pass-the-parcel the characters pick up and drop each other's themes, sometimes revealing something but more often obfuscating it. Everyone is an unreliable narrator, favouring the version of events that doesn't hurt over those that do…
Somehow it never quite slips over the edge into annoying, always doling out just enough information to move the story along and keep the audience satisfied. The story ties itself neatly together at the end, providing the attentive watcher with a number of satisfying 'ah ha' moments. Zoë Seaton's direction and nicely restrained turns from the actors keep the tension high and the audience engaged as the story winds its way towards a climax…
Roisin Gallagher as Helena delivers a nuanced performance as the dead girl, her initial distraction giving way to frantic, febrile energy as her story comes out, before fading away again. Helena Bereen's Margaret on the other hand is by turns a sweet old dear and, in the words of her creator McGill, a 'canny oul one'…
Narratively tangled together, echoing each other's words and history, the actors also mirror each other physically. At one point a vulpine Helena harries Margaret, the only who seems able to hear her, across the stage. A few moments later and Margaret turns the same sharp, feral glare on Susan. An effective piece of physical theatre…
The mean-spirited 'Yellabelly' catcalls and Helena's drifting, mournful songs blend into the narrative well and enhance, rather than distract from, the atmosphere…On the whole The Haunting of Helena Blunden is a powerful, clever play that explores the cruelty of class and the frangibility of identity.
Irish Theatre Magazine:
The subject matter is appropriately gothic (illegitimate children dying under mysterious circumstances, hidden graves, decaying sites of past wrongs humming with spiritual activity), and under Zoë Seaton's straightforward direction the basics of the narrative fall neatly into place…Helena Bereen as Maggie carefully treads the line between lost soul and caricatured crazy woman, infusing her performance with an eerie charm all the way through to its chilling climax. As the wronged daughter Susan, Charlotte McCurry is sympathetic without being maudlin, and she expertly handles what could potentially have been an absurd number about Susan as a youngster cutting herself for emotional release. As her father Michael, Karl O'Neill elicits just the right amount of compassion in his portrayal of a man trying desperately to hold on to what little family he has left. Roisin Gallagher combines a genuine naïvety with carefully measured doses of menace in her performance as the tormenting and tormented Helen.