Bernie McGill is the author of two novels and one short story collection.
She has written audio scripts for heritage projects and stage scripts for theatre. Her new short story collection, This Train is For, will be published by No Alibis Press in 2022.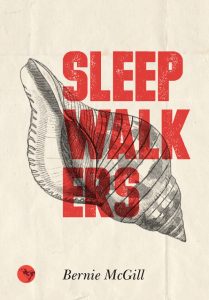 Short listed for the prestigious Edge Hill Short Story Prize for a single-authored collection in 2014. Published by Whittrick Press. Available to order in paperback and on Kindle, on Kobo, on iTunes and in print from No Alibis Bookstore in Belfast.
Darkly moving and beautifully written, Bernie McGill's debut collection of short stories explores the lives of women across the generations. From the storm-battered coastline of the north of Ireland to the sleeping villas of Andalusia, McGill's characters grapple with the consequences of affairs, bereavement, alcoholism, illness and murder.
Compassionate and quietly powerful, McGill's stories capture intimate moments of loss, love and healing in a troubled age.
'McGill's plotting is masterful. These are "killer-blow" stories but [she] carefully guards against sensationalism. Her talent for combining keen observation with a kind of symbolic import is evident. Everything is very precisely described, and yet, more unusually, there is a lyric quality to the description. McGill herself brings not only an awareness of literature, but a poetic sensibility to how she layers her short stories as a poet would layer an image – conscious that meaning is ambiguous, contradictory, polyvalent.' Dr Tess Magennis, Queen's University, Belfast
'Bernie McGill has a seductive way of easing the reader in and out of a story, without the need for killer opening sentences or twist endings. Hers is the voice of an authentic storyteller who guides the reader through her fictional world with authority… I rarely read the first story in a book and immediately re-read it, nor do I finish a short story collection and turn straight back to the beginning. In the case of Bernie McGill's Sleepwalkers, I did both.' Safia Moore in The Incubator Journal (p.67)
'Bursting with emotional life, whether the dark swirl of grief to the most potent sensuality… McGill's careful control over her stories ensure the reader is carried along… her writing is all the more powerful for showing how the worst and best of life can co-exist in her short, sharp stories.'  Dr Caroline Magennis in The Irish Times
'A writer to watch out for' Sunday Tribune
Watch the trailer: