'Small Steps'
8. April 2020 @ 8:00 am

-

5. May 2020 @ 12:00 pm

Free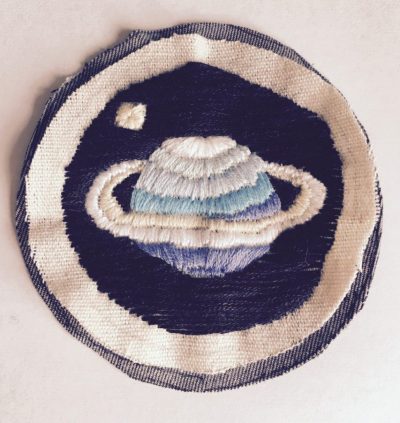 As you may have noticed, there's something of a dearth of public events at the moment, so I'm adding a short story extract here, as part of Flowerfield Creatives' #virtuallyflowerfield online group exhibition for which the current theme is Space. It's from a story titled 'Small Steps'* that I've adapted a little, since things have changed in the world since it was first drafted. It's around six or seven minutes of reading time, which I reckon is about my concentration span right now. I hope you enjoy it. Huge thanks to Desima Connolly, Arts Services Development Manager for Causeway Coast & Glens Borough Council for the invitation to participate in the online exhibition, and to Mary McClelland for permission to use a photograph of her embroidery here. Stay home. Stay safe.  
Extract from 'Small Steps' by Bernie McGill
Our dog, Shortlegs, has a coat the colour of ploughed soil and a white bib and white socks and a white tip to her tail. Her body's too long for the length of her legs. She looks like a big dog that's been cut off at the knees. We got her from our neighbour, Dan, when his dog, Spritzer, had a litter and you can tell that she's part Springer when she bounds through the long meadow between our house and the sea, so that only her head bobs up above the grass. The rest of her, Dan says, is a mystery. His neighbour to the lower end has a boy beagle and up the road there's a Jack Russell and a dachshund. Dan used to watch Shortlegs for traits of those other dogs but he says it could have been any one of them that did the business with Spritzer.
Shortlegs has some of what Mumma calls 'strange behaviours'. She won't eat her food unless you stand over her while she's eating, and she barks at aeroplane contrails, and at the wind. She's quieter now that there aren't so many flights. I texted Dan to tell him that she was howling at the North Star and he said, was I sure that that's what it was? He said to keep an eye on it: if it was bright when there were no other stars around, and if it moved position across the sky, then it could be the space station, and I checked and it was, and it did. Dan said he wouldn't blame Shortlegs for barking. He said, 'Who knows what she can sense out there that we can't?'
I watched a programme on TV about Mars, about the polar ice caps where it snows carbon dioxide and about the ancient salt deposits and the places where they believe water used to flow. So far, NASA has only managed to land a rover there, but the programme narrator said that the person could be alive today who would walk on the surface of the red planet. It would take seven earth months to get there, but you could set up home in a lava tube in a volcano, not that different from the green cave where I take Shortlegs, and sit out the dust storms under a natural skylight, and watch a Martian sunset. I told Mumma that that person could be me and she said, 'Why not? For you, Cassie, not even the sky is the limit.'
The green cave is in the riverbank in the glen behind the house where a spruce tree fell backwards into the forest, and pulled up the soft ground at its base. It must have happened years ago, because the roots are all overgrown with moss and red lichen, and underneath, where the tree pulled away, it's formed a perfect cave. It sort of looks like the earth yawned and then froze in that position, like Mumma used to say my mouth would when I used to make a face. Sometimes when I'm in there, I imagine I can hear the earth breathing, and that the mouth is going to close again and shut me and Shortlegs inside. That's where I go to practice stillness and confinement, in preparation for the space programme. I'm getting really good at it.
Mars has two small potato-shaped moons. Some scientists think it may once have had a third moon, the orbit of which finally eroded. They think that when the lost moon collided with Mars, the impact may have formed the Orcus Patera crater. I measured my orbit and I measured Mumma's and I measured Shortlegs' and Granda's too. If you include Glasgow, and France that time we went on holiday, then my orbit, before Lockdown, was nine hundred and ten miles and I reckon Mumma's was about the same. Now me and Mumma have the same orbit as Shortlegs, which is about two miles and takes in the Spar and the green cave and the sea, though Shortlegs covers at least four times that distance every time we go out, because she can't go in a straight line and boomerangs backwards and forwards to me. Granda can only go from his armchair to the kitchen table, or to the bathroom, or to his bed. If you take the TV as the central point, I reckon his orbit is about twenty steps. That's not much, and Mumma says it's shrinking. Granda's speed is very low but all the same, I watch him for signs of collision, in case his orbit erodes further, in case the same thing happens to him that happened to the missing Martian moon.
*A separate extract from this story was published in Reading the Future: New Writing from Ireland (Arlen House, Galway, 2018).