Prophets, Makers and Risk Takers: A Showcase of Writing from Northern Ireland
9. March 2022

-

10. March 2022

£10 – £15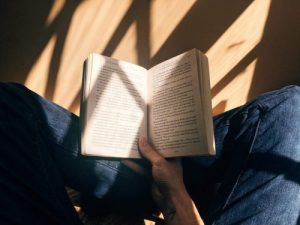 'Prophets, Makers and Risk Takers: A Showcase of Writing from Northern Ireland' is a 2-day festival that brings leading writers in Northern Ireland together, in person and online, to share their ideas and skills with emerging writers, and to promote the best of Northern Irish writing across the world.
Curated by writer Jan Carson, this 2-day hybrid event will take place in-person at Accidental Theatre in Belfast and online. This will be the 3rd edition of Prophets, Makers and Risk Takers and we continue in our desire to be useful to writers and the literature sector in Northern Ireland through skills development, connection and promotion.  We hope that the event will show the breadth of talent that Northern Ireland has to offer and will give representatives from UK and international festivals, and global networks, an opportunity to sit at the table and take note.
The Keynote Address will be delivered by Dr Caroline Magennis, and participants will include writers Myra Zepf, Maria McManus, Bernie McGill, Reggie Chamberlain King, Olivia Fitzsimons, Sue Divin, Sam Thompson, Sheena Wilkinson, Finn Kennedy, Cat Brogan, Emily DeDakis, Aislinn Clarke, James Patterson and Kerri ní Dochartaigh with representatives from the Irish Writers Centre, Extra Teeth, Storyline Literary Agency, ACNI, Tramp Press, The Tangerine Magazine, Literature Ireland, Cúirt International Festival of Literature, EFACIS, the National Centre for Writing, Cove Park and Cheltenham Literature Festival.
On Wednesday evening the Irish Secretariat will host the launch of Queering the Green by Paul Maddern; on Thursday evening The Heaney Centre will host a showcase of new prose fiction at The Great Hall, Queens University Belfast.
We have a limited number of complimentary online and in-person tickets available for anyone who feels they are unable to attend the festival due to the ticket price. To request a place please email here. They will be allocated on a first come first served basis.
Book for an in-person or online ticket on one or both days here.
Timetable:
Wednesday 9 March
10.30am Welcome and Introductions
10:45am Panel Discussion: Making a Life out of Writing
12.00pm Panel Discussion: Understanding the Industry
1.30pm Workshop: Surviving as a Writer (ONLINE AUDIENCE ONLY)
Lunch and networking (IN-PERSON AUDIENCE ONLY)
3.15pm Panel Discussion: Promoting Writers in Northern Ireland Internationally
6.30pm Launch of 'Queering the Green' by Paul Maddern, Irish Secretariat Belfast (IN- PERSON AUDIENCE ONLY) BOOK HERE.
Thursday 10 March
9.45am Keynote Address by Dr Caroline Magennis
10.45am Panel Discussion: Prose Writing
12pm Panel Discussion: Writing for Children & Young Adults
1.45pm Panel Discussion: Off the Page Writing
3.00pm Panel Discussion: Non-Fiction Writing
4.00pm Video: Showcase of Writers in Northern Ireland
5.30pm Showcase of New Prose Fiction, The Great Hall, QUB BOOK HERE.
Details
Start:

9. March 2022

End:

10. March 2022

Cost:

£10 – £15

Event Tags:

ACNI, Aislinn Clarke, author, Bernie McGill, Caroline Magennis, Cat Brogan, Cheltenham Literature Festival, children's, collection, connection, Cove Park, Cúirt International Festival, EFACIS, Emily Dekakis, Extra Teeth, Festival, fiction, Finn Kennedy, in person, industry, International, Irish Secretariat, Irish Writers Centre, James Patterson, Jan Carson, Kerri ní Dochartaigh, keynote address, Literature Ireland, Makers and Risk Takers, making a living, Maria McManus, Myra Zepf, networking, new, non fiction, Northern Ireland, Northern Irish, Novel, Olivia Fitzsimons, Online, panel discussion, Paul Maddern, Poetry, professional, promotion, Prophets, Prose, publishing, Queen's University Belfast, Reggie Chamberlain King, Sam Thompson, screen, script, Sheena Wilkinson, Short Stories, short story, showcase, skills development, stage, Storyline Literary Agency, Sue Divin, The Heaney Centre, the National Centre for Writing, The Tangerine Magazine, Tramp Press, Writers, writing, young adult

Website:
Venue
Accidental Theatre

12-13 Shaftesbury Square




Belfast

,

BT2 7DB

United Kingdom

+ Google Map