At Sea with Words: Creative Writing Workshop with Bernie McGill
29. May 2019 @ 11:00 am

-

1:00 pm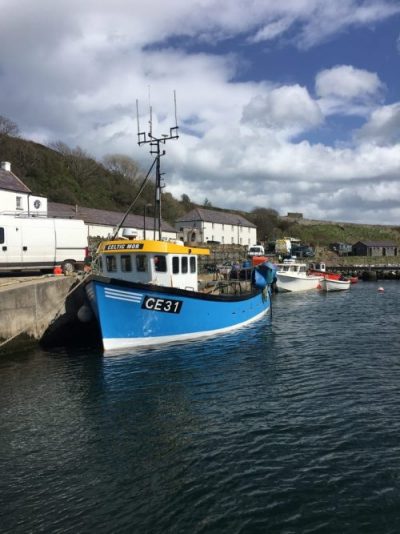 As part of the Rathlin Sound Maritime Festival, author Bernie McGill is hosting a free writing workshop in the Parochial Hall on Rathlin Island on Wednesday 29th May from 11am-1pm. No previous experience required. Come with writing materials and be prepared to write. Numbers are limited. Booking essential. Please phone the Rathlin Visitor Information Centre on 028 2076 0054 to book a place.
You'll find the ferry timetable between Ballycastle and Rathlin here, and if you fancy spending a night or two on the island around the time of the festival, you'll find details of accommodation on Rathlin here. The Festival runs from 24th May to 2nd June this year and there's lots on offer, from boat blessings to beach cleans, pop up crab shacks to little pirates' discos. Full programme available here.
Bernie McGill is the author of The Watch House, a novel set on Rathlin Island at the time of Marconi's wireless telegraphy experiments of 1898. The Watch House has been shortlisted for the Irish/European Union Prize for Literature.
'McGill writes about life, love and telegraphy with a poet's clarity' The Sunday Times
'McGill proves once again she is a masterful storyteller . . . historical fiction at its absolute best' The Lady
'A novel to haunt you' Sunday Mirror
'Totally absorbing and full of unexpected twists' Sunday Business Post
'Endlessly intriguing and exhilarating' Dublin Review of Books
'An evocative novel that's brimming with suspense… [it] reels you in and keeps a grip on you until the very end' The Incubator
'[McGill's] assured style and eye for detail make The Watch House a pleasure to read, a fast-paced tale that rarely flags, with a complex and beguiling heroine at the helm' Irish Times
'Hard to put down, this atmospheric book will stay with you long after the final heart-rending denouement, setting McGill firmly into the panoply of modern Irish writers' Irish Independent
As the twentieth century dawns on the island of Rathlin, a place ravaged by storms and haunted by past tragedies, Nuala Byrne is faced with a difficult decision. Abandoned by her family for the new world, she receives a proposal from the island's ageing tailor. For the price of a roof over her head, she accepts.
Meanwhile the island is alive with gossip about the strangers who have arrived from the mainland, armed with mysterious equipment which can reportedly steal a person's words and transmit them through thin air. When Nuala is sent to cook for these men – engineers, who have been sent to Rathlin by Marconi to conduct experiments in the use of wireless telegraphy – she encounters an Italian named Gabriel, who offers her the chance to equip herself with new skills and knowledge. As her friendship with Gabriel opens up horizons beyond the rocky and treacherous cliffs of her island home, Nuala begins to realise that her deal with the tailor was a bargain she should never have struck.