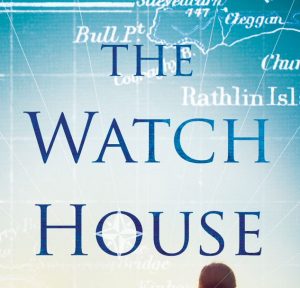 Now that the dust has settled a little on the publication of The Watch House, I thought it would be a good time for an update.  Here are some upcoming events. It would be good to see you somewhere along the way.
Flowerfield Arts Centre, Portstewart
Thursday 21st September 2017 at 7pm
Launch of The Watch House in conversation with Eimear O'Callaghan, author of Belfast Days: A 1972 Teenage Diary
In association with the John Hewitt Society
Admission Free, everyone welcome but please reserve a place by phoning
028 7083 1400 or email reception@flowerfield.org
North Down Museum, Bangor 
Sunday 24th September 2017 at 3pm
Reading from The Watch House with David Park, author of The Truth Commissioner and The Poets' Wives, introduced by writer and broadcaster Malachi O'Doherty
An Aspects Festival event. Booking details here.
No Alibis Bookshop, Botanic Avenue, Belfast
Tuesday 17th October 2017 at 6pm
Reading from The Watch House, in conversation with Jan Carson, author of Malcolm Orange Disappears and Children's Children
A Belfast International Festival event. Full programme details to be announced: https://belfastinternationalartsfestival.com
If you'd like to find out a bit more about the book, have a look at the video we made on Rathlin. (Forgive the state of me – I'd been on a ferry.) And if you fancy a bit of code-breaking, just for fun, you can type the string of Morse from the video in here to find out what it says. In the meantime, I am delighted to share these rather splendid early reviews.
'Beautiful and lyrical, tender and fierce; one of those rare novels, with the power to break you clean in two.' Guinevere Glasfurd, author of the Costa shortlisted The Words in My Hand.
'McGill writes about life, love and telegraphy with a poet's clarity' Sunday Times
'A novel to haunt you' Sunday Mirror
'Totally absorbing and full of unexpected twists' Sunday Business Post
'A lyrical, wonderfully atmospheric novel' Sunday Express
'McGill proves once again she is a masterful storyteller . . . historical fiction at its absolute best' The Lady
'An evocative novel that's brimming with suspense… [it] reels you in and keeps a grip on you until the very end' The Incubator
'[McGill's] assured style and eye for detail make The Watch House a pleasure to read, a fast-paced tale that rarely flags, with a complex and beguiling heroine at the helm' Irish Times
'Hard to put down, this atmospheric book will stay with you long after the final heart-rending denouement, setting McGill firmly into the panoply of modern Irish writers' Irish Independent