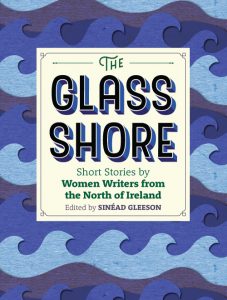 I am delighted to say that The Glass Shore: Short Stories by Women Writers from the North of Ireland won Best Irish-Published Book at the Bord Gáis Energy Irish Book Awards in Dublin last week. This is a huge honour for editor Sinéad Gleeson, for the publishers, New Island Books, and for the contributors.
The anthology consists of twenty-five short stories by women writers spanning three centuries, including a gem of a story by Margaret Barrington titled 'Village Without Men' and a new find from Janet McNeill, one of my favourite writers from here. If you'd told me when I was reading The Maiden Dinosaur at Queen's in the late eighties, that I'd one day have a story in an anthology alongside Janet McNeill, I would have suggested that perhaps you'd had one Black Russian too many! It's a real privilege to be represented here.
The Glass Shore is the subject of a panel discussion and reading at the Seamus Heaney HomePlace in Bellaghy on Saturday 26th November at 7pm. The event will be chaired by Sinéad Gleeson. I will be there with fellow contributor Rosemary Jenkinson to make up the panel. Tickets for the event are £5 and available to book at this link at the HomePlace website. There's a full list of contributors to The Glass Shore on the New Island website, as well as a full list of contributors to its predecessor The Long Gaze Back (which won Best Irish-Published Book in 2015). There will be books available to buy on the night, courtesy of No Alibis Bookstore. Either copy would make a great Christmas present (for yourself or for someone else)! It would be good to see you there.
There's definitely something in the air. Last Friday night the Linen Hall Library in Belfast hosted a hugely informative discussion on Women in Print, and Ruth Carr's important anthology The Female Line was relaunched as an e-book to a packed house by Herself Press. Readers included Maura Johnston and Medbh McGuckian and panel member Dawn Sherratt-Bado announced the publication of a follow-up anthology to The Female Line in 2017. It seems there is an appetite out there for writing by women from these parts. Good news indeed for those of us who are writing.