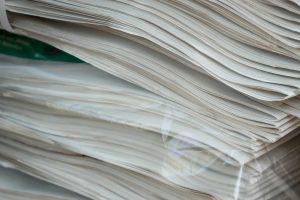 This may be the most boring photograph you'll see this year but bear with me, it's kind of exciting for me. It's an image of the shelf in my writing room that holds the drafts of the current project. I can count ten – and this isn't all of them. The good news is – there won't be any more drafts taking up space. I haven't burned the manuscript and I can't say it's finished – it's never finished – I've learned my lesson about saying that it is. There's editing to be done and all manner of decisions still to be made, about cover design, and about, rather importantly, the title, but I'm delighted to say that The Book (let's just call it that for now) has been accepted for publication. Hooray!
The Book will be published in 2017 by Tinder Press, under the same editor – Mary-Anne Harrington – who edited The Butterfly Cabinet for Headline Review. Tinder Press was launched in 2013 as Headline's literary imprint, 'a place where classy, intelligent writing could thrive.' Their launch title, Maggie O'Farrell's Instructions for a Heatwave, was shortlisted for the Costa Novel Award, and went on to be a Top Ten bestseller. Highlights since then include The Invention of Wings by Sue Monk Kidd, an Oprah Book Club pick and international bestseller, and The Lemon Grove, an e-book phenomenon which established Helen Walsh as a major talent to watch. In 2015 they welcomed bestselling, critically acclaimed author Patrick Gale to the list with A Place Called Winter, and Sarah Winman's hugely anticipated second novel, A Year of Marvellous Ways. 'What these books have in common,' say Tinder Press, 'is a commitment to quality, and a passion for storytelling.' I am more than a little bit delighted to have The Book placed there. Tinder Press will also republish The Butterfly Cabinet in Autumn 2016.
And here are some more reasons to be cheerful. On International Women's Day, Tuesday 8th March, about 130 women writers from all across Northern Ireland will be coming together to take part in Women Aloud NI: a collective raising of women's voices to celebrate the written and spoken word. There are events in every county throughout the day and into the evening: from flash fictioners in Fermanagh to balladeers in Belfast; from literati in Lisburn to dramatists in Dungannon; from prosers in Portstewart to orators in Omagh, there will be something to suit every taste. I will be at Waterstone's in Coleraine where events kick off at 10am and continue through till 4pm in the day. I'll be in conversation at lunchtime with the indefatigable Jane Talbot, author of The Faerie Thorn, co-ordinator and mastermind of the project, whose idea it was to do the whole thing in the first place. The day winds up at No Alibis on Botanic Avenue in Belfast in the evening where nearly 30 women writers will come together to close the day's readings. There is a full listing of events as well as names and information on all the participating writers on the Women Aloud NI page. Come along to an event and raise your own voice, the noisier the better. And if you can't make it there in person, look out for us on Facebook or on Twitter using hashtags #WomenAloudNI #IWD2016 #ReadWomen and at our Twitter feed @WomenAloudNI. See you then.