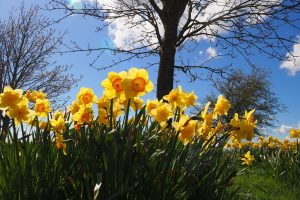 The daffodils have come and gone another year and still work continues on the current novel manuscript. I recently read an interview by Vincent Scarpa with US writer Laura van den Berg entitled A Novel Wants Your Life in Tin House magazine. She's a very wise woman and says many wise things about how writing a novel differs from writing short stories. She talks, in the interview, about the sense of an ending that is present when writing short stories, and how you have to let that go when you're writing a novel because that feeling is 'illusory, a mirage in the desert'. She says: 'If you're working on a novel, whatever you do, don't say, "I am almost finished with my novel." ' That's good advice. It's come a little too late for me – over a year too late, actually (see blog post dated 20th February 2014 and ironically entitled 'Nearly There') but it's still good advice.
On a personal level, this is one of the best interviews I've read on the writing process. It feels like Laura van den Berg has peeked inside my head. 'The hard part,' she says, 'was mainly psychological: how to keep the faith, how to not let doubt erode the project, how to ask the right questions, how to see with greater depth and clarity.' She talks about how, with short stories, it's sometimes possible to fit the writing in and around other things you're doing. (In her case, this could mean writing a scene 'while holed up in the bathroom of a raging party'; in mine it's more likely to be in between loading a dark wash and a light.) The novel, on the other hand, 'wants your life'. I think that's very true. The novel is jealous of time spent doing other things. It expects a much greater act of concentration, of stamina, of willpower than does the short story. It doesn't want to be sidelined, ever, and since it's impossible not to sideline it when you have other work to do, and a family and caring responsibilities, in other words, that thing called a life, then you can find yourself, as she puts it, 'repainting a house that needed to be set on fire and bulldozed.' One of the hardest things for me is that 'constant state of suspension' that she describes. To be engaged in the sustained act of 'not finishing' something is exhausting. (The phrase 'tantric writing' springs suddenly to mind…) While I was writing The Butterfly Cabinet, I'd sneak off every now and then like a truant schoolgirl and write a short story. It was my respite from the onslaught of 'not finishing' the novel. At the end of it, I had a finished novel and the makings of a short story collection, Sleepwalkers. I thought that this time around, I'd be a model student, concentrate wholly on the novel and that way, I'd finish it much sooner, but that hasn't really worked out. It feels to me that that interplay between the two forms that van den Berg describes is a very healthy one. 'The story-novel rhythm is a good one for me,' she says. For me too, Laura, me too. Again, the advice is a little late but never mind. As they say in these parts, I'll know for again. Every day I inch a little closer to an ending, but I won't be saying again that I'm almost finished. I won't be saying anything until I am finished and by then I'll be so incoherent with relief and fatigue (and quite possibly, gin) that I'm unlikely to be saying much of anything at all.
In the meantime, here are some of the things I'll be doing over the next few weeks (while I'm not finishing the novel) and that may be of interest to fellow writing combatants.
On Thursday 23rd April 2015 I'll be facilitating an Introduction to writing short stories workshop at Larne Library from 6pm – 8pm, in association with the John Hewitt Society and Libraries NI. It's suitable for writers of all ages and levels of experience. This is a FREE workshop but places are limited. To secure a place, please email Hilary@johnhewittsociety.org. And for the poets among you, Elaine Gaston will facilitate a FREE Introduction to writing poetry workshop at Ballymena Library on Saturday 18th April 2015 from 11am – 1pm. Again, email Hilary to secure a place. You'll find details of both workshops here. Elaine will also be reading in Randall's Bar, Cushendun on Saturday 2nd May 2015 at 4pm, part of the Cushendun Big Arts Weekend. Look out for Randall's goat at the harbour – the highlight of many a visit to Cushendun.
The Larne workshop comes just ahead of the John Hewitt Spring School in Carnlough which this year is on Saturday 25th April 2015 and features talks and readings by Martina Devlin, Ciaran Carson, Stephen Sexton, Peter Osborne, Nisha Tandon and Vincent Creelan. There's a FREE return coach from Belfast City Centre to Carnlough for Day Ticket Holders (£25 for entry to all events including lunch and refreshments and if you're lucky, some of the famous Londonderry Arms wheaten bread). Full details of contributors and how to book here.
On Saturday 9th May 2015 I'll be taking a One Day Writing Workshop at Roe Valley Arts and Cultural Centre, Limavady that uses John Steinbeck's own writing and his links with the Limavady area as inspiration for new creative work. Open to beginners as well as to more experienced writers, the workshop runs from 10am-4pm with a short break for lunch. Cost £15. (Lunch not included.) To book Tel. 028 7776 0650 or email information@rvacc.co.uk. (Maximum 12 places.)
On Wednesday 13th May 2015 Ballycastle Writers hosts the first Writers' Exchange, of the new Causeway Coast and Glens Council area and Flowerfield Writers' Group will be there to join them. The event is at 7.30pm in Sheskburn House, Ballycastle. Admission is FREE. Participants are invited to read from their own work (short stories, poems, memoir, extracts from novels in progress). For more information contact the Arts Officer on 028 207 62225.
On Thursday 14th May 2015 I'll be at the Linen Hall Library, Belfast along with writers Jan Carson and Kelly Creighton at an event hosted by the National Collection of Northern Ireland Publications (NIPR), part of the Writers on Writers Festival. 'Success Stories: How to get your short stories published' runs from 3pm-5.30pm. Kelly will be there in her role as editor of The Incubator, to talk about what journal editors are looking for. I will be giving advice about putting a collection together, and Jan will be talking about submitting work. This is a FREE event but advance booking is recommended. To book click on the Add to Basket button on the Success Stories link above or contact the Linen Hall on (0)28 9032 1707; email info@linenhall.com. The Writers on Writers Festival runs from 13th – 16th May and features Glenn Patterson along with previous winners of the Michael McLaverty Short Story Award, Bernard MacLaverty & David Park in conversation, a writing workshop by Jo Egan, Anne Devlin talking about Elizabeth Bowen and Sophia Hillen sharing her writing experiences.
That's it for now. More anon. Happy writing, reading, listening, editing, drafting, redrafting, sleeping, drafting some more…